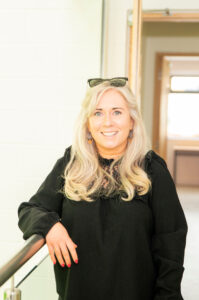 Foróige's Network for Teaching Entrepreneurship (NFTE) programme works with Donegal ETB's schools to enable young people to become entrepreneurs. It gives them the opportunity to design, create and implement a working business whether that be profit making or a social enterprise. Young people are enabled to be innovative and are encouraged to connect and be supported by business mentors. The NFTE model focuses on relevant and transferable skills that these young people can use as young adults in everyday life as well as in their careers. In this blog, NFTE Programme Officer Jane McLean tells us more about it.
NFTE in Ireland
Foróige, the National Youth Development Organisation, was established in 1952 and today is the largest youth organisation in Ireland working with approximately 55,000 young people aged 10 – 18 annually through over 600 volunteer-led clubs and 150 staff-led youth projects. The purpose of Foróige is to enable young people to involve themselves actively and consciously in their own development and the development of society.  As a result, they develop greater self-confidence, self-reliance and greater capacity to take charge of their lives.
The Network for Teaching Entrepreneurship (NFTE) Programme is a world recognised, youth entrepreneurship education and development programme. It is provided by Foróige in Ireland and is affiliated to NFTE International. The NFTE programme has been adapted by Foróige for use in an Irish context, in particular with young people experiencing disadvantage in their lives.
The NFTE programme can change the lives of young people by enabling them to develop core skills in business and enterprise, and in doing so, helping them to unlock their individual talents and potential.
Since 2004, over 30,700 young people have been involved in the initiative across the island of Ireland. In the main, they have experienced social and/or educational disadvantage in their lives. The NFTE programme is currently delivered in 25 counties across Ireland, including Co Donegal. In the academic year 2022-2023 six and a half thousand young people participated in the programme (approximately 850 young people in Donegal), supported by over 280 trained teachers, youth workers and volunteers (approximately 45 in Donegal). We have also developed the additional 'NFTE Mentoring Pilot Programme' and a 'Social Enterprise' module to offer more opportunities to young people in NFTE. This year in 2023 NFTE was awarded an 'Excellence Award' at the Civil Service Awards in Dublin Castle for the Social Enterprise Pilot module. NFTE was also awarded three Gold European Awards and one Silver Award at the European Finals in Switzerland this year showcasing just how strong the NFTE programme is in Ireland and across the European Network.
Objectives and outcomes of the NFTE Programme
The core objectives of the NFTE Programme are to:
Enable young people to reach their full potential
Build self-confidence and interpersonal skills
Increase school completion, college attendance and career aspirations
Develop young people's interest in business to become future entrepreneurs
Enable young people to have a real -life business learning experience
The key outcomes are that young people:
Develop their entrepreneurial skills
Harness their energies in a positive way
Develop a vision of where they want to be and how they are going to get there in relation to their lives and future careers
Develop critical thinking
Develop creativity
Recognise and capitalise on opportunity and to take calculated risks
Increase their self-confidence
Develop interpersonal skills
Increase their school completion and college attendance rates
NFTE in Donegal
In Donegal NFTE is facilitated predominantly in Donegal ETB schools and Youthreach centres, DEIS Schools and Foróige Projects. There are four main categories in the NFTE Programme; The Business category, Innovation category, Social Enterprise category and Special Recognition category. Our young NFTE entrepreneurs work towards these four awards each year, through various competitions such as our Regional Finals, Semi Final and National Finals.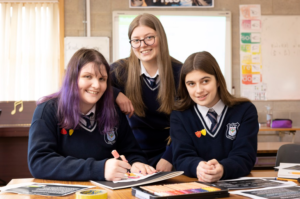 Last year (2022) Donegal ETB school Mulroy College in Milford won the National Award for Social Enterprise with the Business L&M Books. This year (2023) Donegal schools scooped three out of the four National Awards including St. Catherine's Vocational School in Killybegs who won the overall Entrepreneur of the Year in the Business Category with 'Simply Soap'. They travelled with us in September to Kitzbuhel in Austria to represent Ireland at the Youthstart European Awards 2023 and both teams were successful in achieving a bronze award in their respective categories.
The Donegal ETB Schools Facilitating NFTE are: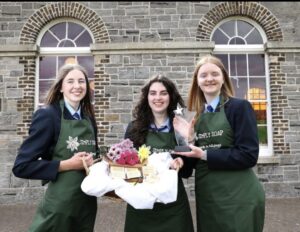 Abbey Vocational
Colaiste na Carraige
Deele College
Errigal College
Finn Valley College
Colaiste Chineal Eoghain
Magh Ene College
Moville Community College
Mulroy College
St Catherine's Vocational School
If anyone from a Donegal ETB school or Youthreach centre or a DEIS School who would like to get involved in the Programme should contact me to find out more and arrange training by calling 086-0481957 or emailing jane.mclean@foroige.ie.