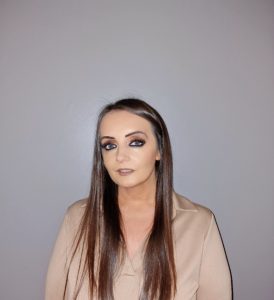 Enabling Technology Enhanced Learning (TEL) in our classrooms is an important aspect of how we support the learning of our students. But how do we do this? Holly Murray is a post-primary geography, history and ICT teacher in our Stranorlar school, Finn Valley College and a TEL advocate and practitioner. In this blog she tells us more about it, while also providing some tips for other teachers.
As a digital teacher, TEL is at the forefront of my lesson planning and my school, Finn Valley College, is a digital school which makes use of Google tools in our daily school life.
Last year I was invited to the Google Foundry to present to teachers from all over Ireland on how I do this to enhance and assist learning and inclusion in my classroom. My use of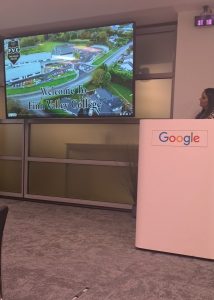 technology is mainly for assessments in the form of digital portfolios but also to assist our students for whom English is an Additional Language (EAL) and those with dyslexia; I was very proud to include their thoughts on the use of Google Tools in class in my presentation at the Google Foundry and to highlight all the amazing work that is being done in Finn Valley College through a wide range of Google tools.
Google Docs: My advice for using Google Docs is to change the background of the document to yellow or a colour that suits each individual to support the students in your class with dyslexia. This can be found under the file tab under page properties. I would also recommend adding the Chrome extension called Helperbird to use the immersive reader. The Immersive reader is a fantastic tool to assist our EAL learners and students with dyslexia. This TEL tool will allow a student to listen to the text being read back to them in a language of their choice along with many other options. Voice typing in Google Docs is also an excellent tool for teachers and students: it reduces planning time for me as a teacher. My subjects require long essay style answers so this tool speeds up the process. This could also assist a student with dysgraphia or an injury.
Google Translate: Google Translate is available in Google Docs and it has its own standalone app. It also has a chrome extension so the user can translate websites etc. I use this every day as part of my planning for my EAL learners. I now have topics in Google Classroom for translated material. The Google Translate app on your phone is also very beneficial and with Google Lens the user can take a picture and the material is translated instantly.
Google Classroom: I use Google Classroom like my digital diary. I update this after each class and it is an excellent way of planning and keeping track of all topics being covered. Google Classroom also supports students who are absent. Students can keep up to date with their schoolwork at home. The originality reports in Google Classroom can now check your students' work for plagiarism in Google Docs and Google Slides. This is an excellent feature to prepare Junior Cycle students for Senior Cycle and further and higher education.
Google Assessment Tools with Sites, Forms and Jamboard: The use of digital portfolios is a very important element of the assessments in my classroom. Google Sites is an excellent tool for use in the Classroom Based Assessments (CBAs). I tried this tool last year with my three second year history groups where they had to design a history website for CBA1. The feedback was very positive from the students and the standard of Google Sites that were created were excellent. I've also created Google Sites for my own teaching and learning with all my resources built into one place. I also use Google Jamboard to create end of chapter summaries. Students can work collaboratively on a Google Jamboard project also. I vary my class tests with paper and digital tests. Google Forms is an excellent tool for end of class exams as it helps me to differentiate for learners.
Tips for teachers:
Create a digital committee in your school
Learn from your fellow colleagues
Invest in your own CPD
Don't be afraid to try something new
Use a variety of assessments which include digital portfolios
Sometimes the best asset you have in a school for CPD is your own colleagues. My advice is try and learn from each other. Not all CPD needs to be an hour after school. It can be a simple fifteen minute conversation in the staffroom to help one another. I'm often asked "how do you know how to do all these things"? My answer is simple: I invest heavily in my own CPD and I like to read blogs and keep up to date with the latest updates with Google and Microsoft applications for the benefit of education. I use Twitter for my own professional development and lesson planning also; my own account is solely aimed at supporting teachers on their implementation of digital technologies in their classrooms. I created a TEL drive in my school for our staff with short videos on various tools that they can watch in their own time to help with their CPD. Completing my Google Educator level one and two exams greatly helped me in implementing even more Google Tools into my classroom. I have completed the ambassador training for Google's Applied Digital Skills programme and have introduced these skills into my ICT classes over the last number of months.