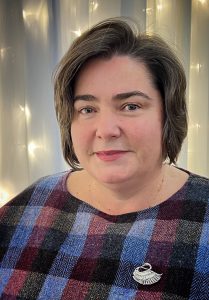 Developing and redeveloping the courses (programmes) provided by our Further Education and Training (FET) Service is critical to ensuring we provide courses that meet the needs of students, communities and industry across the county. But what does this mean and what does it involve? In this blog our FET Programme Development Officer Bridgita Kelly tells us more about it.
Programme Development within Donegal ETB extends to a wide and varied approach across the whole Further Education and Training (FET) Service.
Support is provided to co-ordinators and senior managers looking to:
review modules offered within existing validated programmes
creation of new programmes based on occupational skills profiling or training needs analysis with Employers
provide progression opportunities from existing courses
validation of new programmes with existing Awarding Bodies
centre and qualification approvals with new Awarding Bodies and
progressing these changes through the Governance and Quality Assurance compliance processes
The role is cross-curricular and supports all areas of the FET provision within Donegal ETB.  At the core of the role it aims to enable Donegal ETB to provide programmes that are current, valid and agile in meeting the increasing flexibility required in the future workplace, community contexts and the national strategy for the FET Sector.
Digital skills, business acumen and environmental awareness skills are increasingly in demand by employers and by many adult learners wishing to engage more effectively in society, which has resulted in training in these areas being integrated into newly developed programmes in areas such as the Public Works and Marine Engineering Traineeships.  This enables participants to gain skills in a particular curriculum area, whilst also developing IT skills, personal effectiveness, communications, decision making, project management skills and environmental sustainability awareness.
The role of Programme Development Officer offers an opportunity to engage with a wide range of training provision across the breadth of curriculum areas, which means that no two days are ever the same. There are big projects like assisting in the creation of a new qualification and getting it recognised for certification with an awarding body, such as the Certificate in Donegal Weaving which is an NFQ Level 6 qualification certified by the Scottish Qualification Authority or the Level 6 Special Purpose Certificate in Work Based Learning Practices certified by QQI. There is great pride in knowing that Donegal ETB worked closely with learners, industry, community and quality assurance stakeholders to create these new qualifications, which meet needs in sustaining heritage skills or supporting mentors and trainers in work-based learning programmes.
Through our Employment Engagement Team, programmes such as the Communication Systems Installation Traineeship were developed based on occupational skills profiling completed with employers where there were skills shortages in a specific industry sector. Donegal ETB sourced appropriate qualifications to meet the skills shortage and gained Awarding Body approval to deliver these qualifications and committed to the capital resources to provide the programme locally.
Industry/vendor certification is also an important element of many programmes and encourages continuing personal development and upskilling that is to industry specific standards. Therefore, Programme Development will work closely with the Quality Assurance Support Team to make sure that these offerings still meet the quality assurance requirements of any training that is offered. This may involve the updating and maintenance of systems such as the National Programme Database or the Learner Management System (PLSS), which enables the range of qualifications to have complete visibility on the Donegal ETB Course Finder or Fetchcourses websites.  This allows students to see the components that make up the full programme and be better informed when they are selecting courses. Several courses to support the Hospitality (Barista / Wine and Spirit Education Trust), Engineering (Visual Welding Inspector/ Robotic Welding), Healthcare (Crisis Prevention Intervention) and Irish Language Proficiency (TEG) have come through this route with programme development to enhance the programme provision and visibility.
The most important element in programme development is stakeholder involvement, both inside and outside the organisation.  The stakeholders inform the decision-making process as to what changes or what new programme proposals are progressed, they provide the subject matter expertise to ensure that new qualifications are fit for purpose and finally they validate the effectiveness of these programmes by providing feedback on pilot programmes to enable the constant review of content, resources and delivery mechanisms.