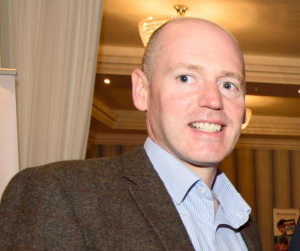 Our student Psychology Service was set up in September 2010. It provides collaborative support to students, staff and parents/guardians in our schools and Further Education and Training (FET) Service. In this blog, our Senior Educational Psychologist Martin Gallen tells us more about it.
The work of an Educational Psychologist involves consulting with parents, teachers and individual young people as part of the process of developing and reviewing student support plans. The main areas of practice involve the provision of support to young people and more mature students in relation to special educational needs, behavioural challenges and social and emotional difficulties. This support requires, in many cases, extended networking with health and other services. Much of the work also involves supporting students and young people with additional needs to transition from primary into post-primary school or to new educational programmes after post-primary school. Group work undertaken with schools includes:
Social skills training with young people with identified needs
Study skills initiatives for Junior and Leaving Certificate students
Facilitating the FRIENDS programme (a programme to increase emotional literacy, resilience and problem-solving abilities with groups of young people)
Facilitating the Relationships and Sexual Education (RSE) programme for pupils with Autism Spectrum Disorder (ASD)
Working in Partnership
The service works closely with many other agencies and tries to build close working relationships to facilitate working on shared goals. A close and successful collaborative working approach has been developed in the schools with the National Educational Psychological Service (NEPS) and services from the National Council for Special Education (NCSE) and TUSLA. Regular meetings are held with colleagues in NEPS to plan and review training programmes and interventions.
Within the HSE, close working relationships have been fostered with the Child and Adolescent Mental Health Service, Clinical Psychology service and other community supports. This work involves facilitating, where necessary, the transition of vulnerable young people from schools into other educational placements and to support these transitions.
Other ways in which the service supports collaborative work is through participation on committees advocating supports for young people such as the Jigsaw Donegal Clinical governance committee, membership of the Donegal Children and Young People Service's Committee (CYPSC) and membership of the National Council for Special Education's Consultative Forum.
Support to Parents and Guardians
Assessment work undertaken with individual young people aims to support parents both formally and informally by providing professional pre-assessment briefings and post-assessment feedback together with recommendations regarding the needs of the referred young people. Planning and review meetings are held in schools with parents throughout the year to chart the progress of students with additional needs. Collaborative meetings are also held between school/centre management and parents to plan post-school/Youthreach transitions to work or further education. Information evenings organised by schools and centres also provide practical support and advice to parents and guardians on supporting their child through examinations and school life.
Support to Schools 
Formal professional development and informal support is also offered directly to staff within the schools, including:
In-service training for staff in various areas including contingency planning for critical incidents; evidence-based literacy and numeracy interventions to primary and post-primary teachers in collaboration with the National Educational Psychological Service; the Continuum of Support model of service for schools developed by the National Educational Psychological Service; on Department of Education mental health guidelines for post-primary schools; on relevant areas on pupil care needs and behavioural support for Special Needs Assistants
Organisation and facilitation of network meetings for Special Education Teacher (SET) coordinators
Facilitation of consultation groups for teachers of pupils with Autistic Spectrum Disorder diagnoses
Facilitation and support for the review and setting up of Student Support teams based on Department of Education guidelines
Support to FET Centres
Formal and informal supports are also provided to staff and students on the Youthreach programme as well as other individual programmes such as:
Developing procedures for formal assessment
Providing training in literacy and numeracy test batteries
Consulting on the preparation and development of Education Plans
Developing strategies for dealing with young people who have Specific Learning Difficulties
Interpretation of cognitive functioning and language assessment profiles
Consulting and advising on potential eligibility for accommodations in the state examinations or QQI accredited assessment
Liaising and consulting with the QA FET Working Group in relation to the development of Quality systems vis-à-vis criteria for Reasonable Accommodation
Reviewing Critical Incident Plans
Supporting school staff and students in the aftermath of critical incidents
In summary, the job of an educational psychologist is varied and interesting, with no two days ever being the same. While it can be challenging at times, the job is also be very rewarding, especially when the collaborative support of parents, teachers and the wider school community results in positive outcomes for our young people and adult learners.