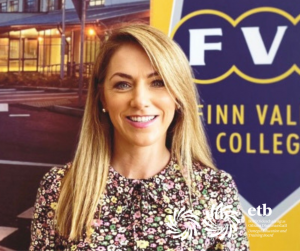 Supporting young people to transition from primary to post-primary school is an important aspect of the annual work plans of each of our post-primary schools but what does this involve? In this blog Ashlean McGeehan, the Home School Community Liaison (HSCL) Coordinator in our Stranorlar school, Finn Valley College, tells us more about this process and how Finn Valley College supports the young people in their area to make this transition.
One of the biggest milestones in a young person's life is the transition from primary to post-primary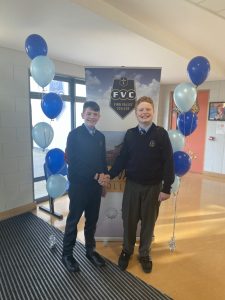 school. If you think of a child in their 6th class at primary school, you know that child is very familiar with their school environment. Within a short period of time, the same child reverts to being the most junior again in their new post-primary school environment. This change is very exciting for young people but for some, it can be daunting.
Early preparation and sufficient information are key to planning a successful transition from primary to secondary. In Finn Valley College, we start planning in early September so we can offer an exciting Open Day for 6th class pupils which gives them a flavour of the subjects on offer in the school, along with a Parents/Guardians Information Evening which further informs parents and guardians. In May, we offer a one-day induction for the students that have enrolled in our school. This ensures that primary pupils become familiar with their new secondary school prior to transitioning and feel comfortable and confident with the changes in teachers, key school routines, new peer groups, and physical surroundings.
A second Induction Day is also held in August, prior to their start date.  The main aim of this day is to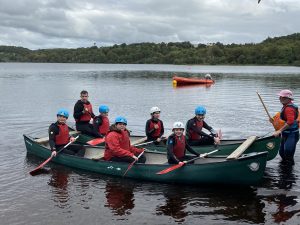 develop friendships and meet peers outside of school which enables them to connect with each other before starting their new journey; this has proved to reduce the anxieties of starting school the following week.
Furthermore, when they begin their first two days at Finn Valley College, they are facilitated again with the Belonging Plus transfer programme, all with Finn Valley College trained peer mentors (older students already attending the school) to help and support our new students.
I feel early intervention is vital; organising 'meet and greet' sessions for parents and guardians in May, facilitating inductions for English as an Additional Language (EAL) students and their parents and guardians, and during the first term of the first year, providing parents and guardians with important forums to share information and a basis on which to build relationships are all essential to a successful transition.
With all of this in mind and having researched different parenting supports our South Donegal HSCL Cluster is now, for the first time in Donegal, offering a programme called 'My Child My Vision' a HSCL Parent Transfer Programme.
The aim of this programme is to help parents and guardians feel more confident and comfortable about the transfer of their child from primary to post-primary and to increase their aspirations for their child's future. The vision is for 'every child to progress successfully to post-primary education and then onwards to further and higher education'.
A consultation process took place with Donegal ETB's Further Education and Training (FET) Service which is now delighted to be supporting the accreditation process via QQI Level 5. Parents from post-primary and primary schools in our cluster are now participating in a 12-week course with Donegal ETB and will hopefully be awarded a Working With Groups QQI Level 5 accreditation at the end.
Only five HSCL Clusters in Ireland are currently participating in the 'My Child My Vision' programme and we feel that it's a great opportunity for parents. Parents and guardians who have already completed the programme noted that some of the best things about it were, 'getting an appetite for education again and making new friends', 'learning about things I need to know before my child goes to post-primary school' and developing confidence in parents.
My role as HSCL Coordinator and secretary of the cluster is to support and encourage parents while they are participating in the qualification. Next Spring we hope to offer a series of co-facilitated interactive sessions with small groups of parents and guardians. The upskilling of parents and guardians to become equal partners in the delivery of the 'My Child My Vision' HSCL Parent Transfer Programme has been identified as essential to its execution and we're delighted to have them on board.