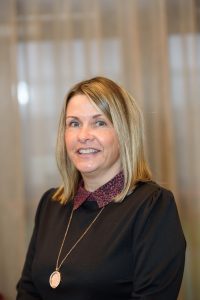 Joanne Whitelock is the Quality Assurance Coordinator for our Further Education and Training (FET) Service. In this blog, she tells us what Quality Assurance means and provides some examples of how it works in practice.
What is Quality Assurance?
"Quality is not act. It is a habit." ~Aristotle
Quality Assurance (QA) in a FET context can be described as the systematic review of provision in order to maintain and continually improve the quality, equity and efficiency of that provision. In simple terms, this means reflecting on our everyday practice and considering how we might improve it. This would include feedback from our students, employers and other stakeholders to inform us of their own experiences, what works well and what we can do to make it better.  Parts of that systematic review include self-evaluation, external evaluation, and the evaluation of teaching, learning and assessment. To support the review and evaluation of our Service we have introduced annual FET Student Voice Events where once a year we bring together FET students from across the Service to provide us with feedback on all aspects of it – you can read more here about our first Forum held in February 2020: https://www.donegaletb.ie/2020/02/13/donegal-etb-host-first-fet-service-student-voice-forum/. A multi-layered approach is also required including the governance and management of quality assurance across the FET provision. QA is also used to describe the enhancement of education and training provision and the standards attained by students.
The quality system for Donegal ETB's FET Service refers to all of our QA policies and procedures working together to maintain and continually improve our provision. These policies, procedures, guidelines, and other resources are the system or framework required to govern, oversee, analyse, review and improve the quality of provision and related services. They includes communications, Student Evaluation, teaching and learning, staff induction, staff development, the learning environment, student support and Public Information and Communication Policy.
The Public Information and Communication Policy which sets out how Donegal ETB'S FET Service shares information and communicates both internally among staff and externally with all stakeholders.
The Quality Assurance Policy was developed to promote and embed quality practices in all aspects of Donegal ETB's FET service by ensuring that policies and procedures are developed and revised in line with statutory legislation. The policy sets out how we develop policies and procedures as part of QA cycle of planning, implementing, publishing reviewing and improving all our policies and procedures to ensure the service remains responsive to the needs of our stakeholders.
Our Recognition of Prior Learning (RPL) policy ensures that Donegal ETB's FET Service approaches student admission and progression which includes fair recognition of a student's previous education and training qualifications, periods of study and prior learning, including the recognition of non-formal and informal learning to support flexible learning pathways. This has allowed many FET Service students to gain qualifications based on the recognition of their prior learning.
A successful quality assurance system will be efficient, well communicated and integrated into normal activities and everyday practice. In practice quality assurance involves every section of the organisation and covers our everyday practices. For example, we are currently in the process of updating our assessment instruments to make sure they are up to date and relevant to current practice. This was in response to feedback from staff and students who felt that the assessment instruments were outdated.
Why is it quality assurance important?
Developing a strong quality assurance system is crucial to support high-quality, inclusive education and training and ensures that all of the qualifications and provision we provide are at the highest standards possible. As an organisation, we are obliged especially for our students and apprentices, to ensure we monitor, review and evaluate our service so they receive the best quality learning experience available.
What does Quality Assurance mean for the Donegal ETB FET Service?
Ensures an inclusive and equitable quality education and promotes lifelong learning opportunities for all
Encourages the sharing of best practice to enhance the student experience
Allows for the sharing of transparent information of quality assurance processes to build trust and confidence
Allows us to seek ways to continuously improve
Ensures we support our vision and mission
Encourages all stakeholders to have a voice
Demonstrates that we understand what it means to deliver high quality provision and services in a regulated context
Who Quality Assures Quality Assurance?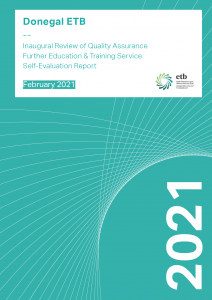 Last year, our QA system underwent the QQI Inaugural Review which is an external self-evaluation process carried out by an international team of Reviewers. The reviewers spent a week meeting with students, staff, employers and other key stakeholders analysing and reviewing all aspects of our QA system. The outcomes were positive and the review team agreed with main priorities and plans in developing and integrated QA system.   Staff, students and external stakeholders felt that this was a very positive experience and that they appreciated the time and space to reflect on current practice, what works well and what areas can be improved.
For further information on our quality assurance system please visit the Quality Assurance section on Donegal ETB's website or staff can keep updated by visiting the Quality Assurance Support Service portal on the Intranet.