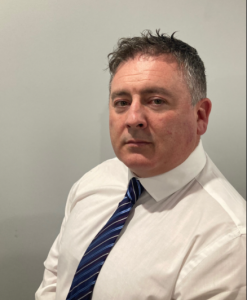 Our Principals and Deputy Principals play a key senior leadership role in our school communities. Shane McArt was appointed as a Deputy Principal to Deele College in Raphoe just over a year ago and in this blog he reflects on how he got there and how his first year as a Deputy has been.
I took up the role of Deputy Principal in Deele College in Raphoe in September 2021. After nearly twenty thoroughly happy years working in Crana College in Buncrana, I have to admit I was ready for a change.
My time in Buncrana began as a teacher of Physical Education in a Job Share capacity, eleven hours a week. I was teaching in London and held a permanent position, but I desperately wanted back to Donegal.
I was happy to take any role, make a go of any opportunity and graft until a job came up that I could call my own. Eventually, as it turned out, taking the part-time job worked out.
Over the years different roles at Crana College presented themselves allowing me to gain experience in behaviour management and that of Home School Community Liaison.
It was in mid-2021 that I applied for the role in Deele College.
It has been a massive change in many respects, but to date I haven't regretted a second. Deele College is a busy, dynamic school. Even in COVID times this was very evident at the start of the Autumn term.
The first challenge for me was learning new names and faces. The wearing of masks did not help by any means, but the friendly and professional staff took time to introduce themselves, offer support and help me find my feet.
One of the first things I noticed about the school was the spirit of collegiality. Everyone gets on. The cleaners, caretakers, secretaries, school completion workers, special needs assistants and teachers all contribute to the positive environment.
The students have also been fantastic. They are the heartbeat of the school and a privilege to work with. The potential and ability they have is inspiring.
As an expanding school, the collective network of Donegal ETB is invaluable. The administrative support keeps the likes of Deele College running smoothly and efficiently. The answer to almost any question is at the other end of the phone.
Without a doubt, taking up the position of Deputy Principal has been the steepest learning curve of my career. You can read about it, prepare as best you can, take advice and listen to others but until one immerses oneself in the role it is nearly indefinable. The support of my Principal Joe Boyle and fellow Deputy Principal Carmel Mulligan has been immeasurable. The transition and support they both gave has been and still is greatly appreciated.
The biggest learning experience has been how busy the role can get. Schools by nature are busy places and a Deputy Principal can end up wearing several different hats at any given time. However, this is also one of the most enjoyable parts of the job. No two days are the same and every day is a learning day. You have to enjoy working with people and developing a rapport with all members of the school community.
Deele College is a pilot school for the ETB Ethos initiative and the core values of Excellence in Education, Care, Respect, Equality and Community are embedded in the school. The management team is committed to this ethos and the five pillars mentioned above reflect everything Deele College stands for. I am honoured to be a Deputy Principal in a progressive school within Donegal ETB and will look forward to the next academic year and the exciting challenges around the corner.