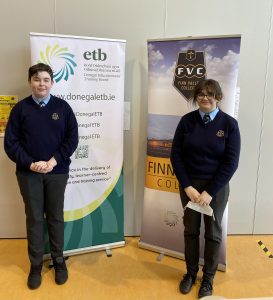 Digital Media Literacy is one of the many short courses offered to our Junior Cycle students. In our second February blog, Finn Valley College third year students Charlie Ward and Sarah O Donnell tell us more about one aspect of this short course, Digital Citizenship.
As students participating in the Junior Cycle Digital Media Literacy Short Course in Finn Valley College, we have learned that Digital Citizenship is our impact on the digital world and our responsibility to be respectful and contribute positively to the online world.
Being online can offer a variety of resources to further ourselves and an example of this is using the internet to help us learn and study, with quick access to technology, this is benefitting us as students. Now, more than ever, being aware of our responsibilities as digital citizens is critical.
We contribute to the establishment of a secure and linked international community by correctly utilising the internet, regardless of where we are, who we are, or what social attitudes we have, since the most essential issue is: how can our good online conduct affect others? In class, we have worked on all the elements that contribute to us being a good digital citizen: for example Digital Literacy, Access and Security, Rights and Responsibilities and we devised our class pledge that we are now committed to.
Learning how to be a good digital citizen ensures cyberbullying prevention, safety online, digital responsibility and digital health and wellness. A digital citizen consumes and creates digital content and is able to contribute and communicate positively to society.
During our class last year Sarah interviewed Youth Worker Dominic Mc Glinchey from Donegal Youth Service. The basis of this podcast was about young people and their actions online.  We learnt that 26% of young people in Ireland are cyberbullied and that Instagram was the leading social media platform for cyberbullying, followed by Snapchat. We discussed cyberbullying: the percentages of young people affected by cyberbullying, the main apps associated with cyberbullying and how it is affecting young people today. Dominic's main advice was to block and report as soon as you witness any form of cyberbullying. We want to educate everyone on fulfilling their duties of presenting as good digital citizens.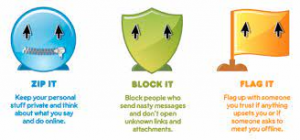 We will always remember our class mantra 'Zip it – Block it – Flag it'  which we sourced from the internet and won't forget it any time soon!
In reality, not only in society but also online, we must be decent citizens. Employers now analyse potential employees based on their social media profiles, thanks to digitization. As a result, it's critical to teach us students how to develop good and productive online personalities, whatever you post online doesn't disappear and can affect your life in the future.
We think that learning about digital citizenship is important so that we can help prevent harm and disrespect in the online world.