Pauline Doherty is an ICT and Accounts Teacher in our Milford Further Education and Training (FET) Centre and is a member of the Community of Practice team that developed a Digital Citizenship website for both our post-primary and FET students and teachers. In this blog she tells us more about it.
I have been teaching Information Technology for some years, and I have seen lots of change in recent times. There is a greater technology-driven approach to teaching and learning with new technologies being developed continuously. In recent times, teachers have been using Virtual Learning Environments to deliver lessons, upload resources and communicate with their class. Students can use this platform to interact with their teacher and collaborate with their peers. It is not only the education sector that is utilising so much new technology, with much of our daily activities such as banking, shopping, working, and socialising now taking place online, it is important that everyone using a digital device is aware of how to protect themselves and their personal information, while showing respect to others and being a good digital citizen.
My own interest in the area of Digital Citizenship was piqued when I enrolled in the Higher Diploma in Computing for Educators course in LYIT. This particular module was an eye opener for me – I thought I knew a lot about the digital world – but this introduced me to the vast expanse of the themes surrounding it.
Why is Digital Citizenship Important?
In today's world, so many of us are using information technology and the internet to engage in society. As such, we are a society of digital citizens and it is important to be able to participate responsibly and safely in this digital age.
Digital Citizenship Site
We realised that it is so important that students have the necessary skills and competencies to actively,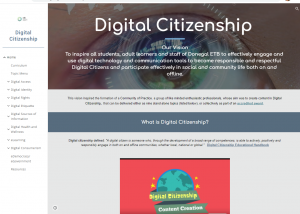 positively and responsibly engage in online activities, and have the ability to develop critical thinking skills, yet a specific module around the area of digital citizenship did not exist within Donegal ETB. Rather than each teacher developing individual resources to incorporate into their lessons, we felt a collaborative approach could be very effective here. To achieve this, a group of teaching professionals, led by Vivienne Doherty, BTEI County Co-ordinator, formed a Community of Practice to identify relevant themes and topics, discuss content, develop lesson plans and resources including presentations, videos, and quizzes – all functional, practical and beneficial material for both teachers and students. Each member of the Community of Practice assigned themselves to their topics of interest and this ensured everyone had an active interest in the area they were working on.
The result of the development of this Community of Practice was the creation of our Digital Citizenship site, of which we are very proud! The topics that the site focuses on are as follows:
Digital Access
Digital Identity
Digital Rights
Digital Etiquette
Digital Sources of Information
Digital Health and Wellness
Online/eLearning
Digital Consumerism
eDemocracy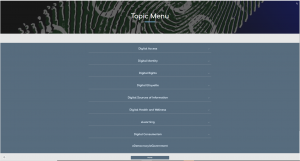 Within these topics, key digital citizenship areas are addressed including cyberbullying, effective passwords, copyright, social media, fake news, digital footprint, identity theft, spam, phishing and malware, and lots more. We feel there is something on this site for everyone – there are areas very relevant to students such as plagiarism and referencing, while also featuring other pertinent topics such as guides to shopping online and remaining safe whilst doing so. There are also lots of fun activities incorporated into the site.
The content has been designed so it can be delivered using a flexible approach, it can be delivered as either nine stand-alone topics, or collectively as part of an accredited award. The award offered for FET is QQI Level 3 Computer Literacy and Digital Badge in Digital Citizenship and for schools it is the Junior Cycle short course in Digital Media Literacy.
This is a one-stop platform for resources and materials for both teachers and students. There is very relevant information on this pertaining to the world we live in today. Some adult students have commented that they will be sharing what they have learned with their own children in the hope they will have a better understanding of how to behave online. Our aim is that this site will encourage students to evolve into savvy and proficient digital citizens.
Please have a look through our Digital Citizenship site yourself – hopefully you will enrich your knowledge and become a better digital citizen!