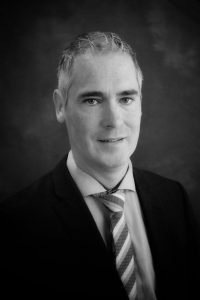 We directly manage fifteen of the county's twenty-seven post-primary schools and are a trustee partner for a further eight Community and Comprehensive schools. Our school Principals play a vital leadership role in managing our school communities but what does this involve? In this blog, Danny McFadden who is Principal of Errigal College, one of our Letterkenny schools, tells us about his first year of Principalship.
I took up my post here in January 2021, at the beginning of yet another extraordinary year. While I had previously been a former student and teacher at Errigal College, my return to the school in January in a leadership capacity, after seven years as Deputy Principal at Deele College, was a markedly different experience, both in terms of the role I was about to begin and the environment we were working in.
In a non-pandemic world, my new role would have involved getting an understanding of finance, the school building, getting to know staff and all the other members of our school community and most importantly, leading teaching and learning. However, taking on a Principalship in a pandemic world meant that the school building was secondary to the online learning environment and clear communication was essential for staff and students' teaching, learning and wellbeing. As well as this, I had to meet the challenges of the ever-evolving government guidelines to ensure that our school environment was safe for everyone to return to.
In terms of the environment, an entirely new group of students had entered Errigal College since I last taught there, but I also returned to the school in a completely different time – a time where a global pandemic had now kept students away from the hallways and the classrooms, and where we had to adapt to a new online learning environment. In such a situation, the leadership experience I had gained while serving as Deputy Principal at Deele College aided me in navigating the strange and new waters we found ourselves in, with COVID-19 demanding so much of our staff and students.
Despite not being able to see our students face-to-face as we had become so accustomed, I made every effort to keep in touch with our school community, and especially our students and their needs, as we adapted to online learning. Our Student Support Team held a daily 'check-in' each morning for our students, so they could remain as engaged as possible with their education. Not only did we hold online classes for our students, we also provided online clubs like our cookery club, pet club, bingo club and much more, where we could all connect socially in a time of social distancing. This helped to address the wellbeing of our students in some small way during very trying times.
I had excellent support from Donegal ETB at this time, being an ETB Principal is a wonderful honour and the support of the ETB in the early days of my Principalship and beyond has been second to none. For example, having the expertise of the ETB staff at the end of a phone to guide and advise me on whatever challenges I came across made me feel very comfortable and supported in my role as Principal.  Also, our Google Workspace for Education facilities which were already embedded before the pandemic allowed us to scale up for the digital challenges that faced us. Many of our teachers had already been using a blended learning approach, so when it came to remote learning we were well placed to continue high quality teaching and learning.
We first welcomed students back in March and April of this year, with those from our Leaving Certificate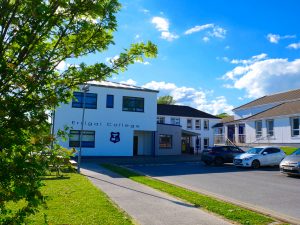 classes returning first, as they had to prepare for receiving their accredited grades, sitting their written exams, or both. Shortly after, I had my first opportunity to meet the rest of the students at the school, from every year, as they returned to finish off the academic year on a positive note.
And then, we welcomed a new group of students in the Autumn, as our first years took their first steps within the halls of Errigal College. We have a comprehensive first year induction programme in place, to allow them to adapt to the whole new world they were beginning. I take great pride in helping our newest students to find their feet, getting to know the new names and faces of the students that will be helping define our school culture in the coming years. Our lunchtime clubs also help with that where, in an environment that is COVID-safe, we can help our students better get to know each other and form friendships and bonds.
As our entire school community returned in September, it was a joy to meet all of our students and to get to know them better – one of my main goals was to get to know each student by their first name, so I could be able to assist in whatever way may be necessary. The wellbeing of students and their school experience is the most important aspect of my work as a leader within the school, and I want to create an environment where student wellbeing is paramount above all else, and that the voices of our students are the ones we listen to the most. As a Principal I attend every Student Support Team meeting and regularly link in with our Student Council and Senior Student Leadership team. My door is always open for students who wish to share an idea or concern with me.
Looking forward, after 2021 and for the coming years as Principal of Errigal College, there are a lot of exciting things I would love to achieve including increasing enrolment numbers in the school and working on the development of our new €17 million extension which is currently in the planning process.
Our diligent, energetic and skilled staff here at Errigal College provide a superb, welcoming learning environment for all our students, both current and prospective, that makes the school what it is and will be into the future. I'm proud to be at the helm of this team and would like to thank all the students, parents and staff at Errigal College, as well as Donegal ETB's administrative and senior management staff, for making my first year as a Principal truly memorable.