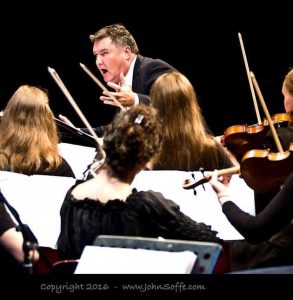 Vincent Kennedy is one of Ireland's leading composers and conductors and since 2008 has been the conductor and musical director of our youth orchestra, the Donegal Youth Orchestra, part of our music service, Donegal Music Education Partnership. For the past year he's been composing music for 'Colmcille, Dove of Peace', which will have its world premiere on 5 December. In this blog Vincent tells us about the composition process and what to expect at the premiere.
For the past three years I have been researching and thinking about writing a large-scale work for the 1500th anniversary of St Colmcille and in January of this year 'Colmcille, Dove of Peace' was commissioned by Donegal County Council's Culture Division with the support of Creative Ireland; I then began writing when the details were finalised. The project has been carried out in collaboration with Donegal ETB's Donegal Music Education Partnership and the ETB itself.
At the time COVID-19 was at its worst and returning to live music seemed a long way off. When I say I began writing, it was very difficult at first as I found the COVID-19 period had blocked my musical mind, probably because I last performed live music on 8 March 2020. It was difficult to begin: it felt like I was descending on foot into a large hole in the earth with pick and shovel to break rocks and then push them all the way to the top before splitting them open to find the nugget of a musical note I was looking for.
Slowly the music emerged. At this point I have written twenty individual pieces that go to make up 'Colmcille, Dove of Peace'.
Although I knew the groups I was writing for, in my original plans I had included a choir of five hundred people drawn from all the parishes and clans of Donegal but COVID-19 put paid to this. As live rehearsals were further and further delayed, I had to revise the music three times so that it could be rehearsed separately by the groups and soloists before we could all finally come together.
'Colmcille, Dove of Peace' is inspired by significant happenings in the life of Donegal's most famous saint and will be performed by the Donegal Youth Orchestra, Donegal Youth Choir (also part of Donegal ETB's music service), soloists and a narrator. The soloists are soprano Sara Laughlin, tenor Aodhán Gavigan, harpist Nodlaig Brolly and uilleann piper Paul Gillespie. The narrator is Megan Armitage. The big day is Sunday 5 December in An Grianán Theatre, Letterkenny, starting at 3.00pm.
I find it inspiring to write for people and ensembles I know. The people who are involved in performing this new work are all wonderful musicians.
It is special that three people who have significant solo parts are linked with the Donegal Youth Orchestra: Tenor Aodhán Gavigan and the actress Megan Armitage, who is narrating, are former members, while Uilleann piper Paul Gillespie is currently a cellist in the orchestra.
The harpist Nodlaig Brolly, from County Derry, will connect us to Doire Colmcille. I have asked her to compose lyrics in Irish to the music 'Doire Colmcille' she will perform. It will be a beautiful occasion as Nodlaig will sit next to her son, who is also a cellist in the Donegal Youth Orchestra.
Sara Laughlin was one of the first new friends I made when I came to make music in Donegal in 2007. Sara, who teaches in Dungloe and directs the Donegal Youth Choir, recently got married and will bring much happiness to her own solo performance and in preparing the choir.
The first time all the performers will come together will be on Saturday 4 December. I have faith that the way the music is built means it will all fit together beautifully. We will then bring a wonderful new work to premiere the next day, Sunday, two days before the birthday of St Colmcille in 521.
I am very grateful to Donegal ETB and its Donegal Music Education Partnership – led by Martin McGinley and supported by John McIvor – for their ever-present assistance to me and all the young people involved in music in Donegal. The ETB's Director of Schools, Dr Martin Gormley, is a central figure in making things happen. We are very thankful to Errigal College, who have been so supportive in allowing us to rehearse safely.
The commission wouldn't be happening without Traolach Ó Fionnáin, the county's Arts Officer, and the County Council's culture division.
It is also wonderful to be back rehearsing live and to have the friendship and support of Mary Armitage. Mary was a great friend of the late Sister Concepta, Kinsale and Ballyshannon, who did so much for music in Donegal and the orchestra.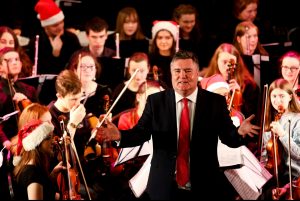 I realise all the sacrifices made by the parents of our young performers, and the time they spend getting their children to practice, getting them to rehearsals and supporting them in their musical journeys. We're all in this together.
With such talent involved, I'm looking forward to a wonderful premiere of 'Colmcille, Dove of Peace' on Sunday 5 December. My aim is to help deliver a fitting tribute to a truly exceptional man.
–
To find out more about the world premiere of 'Colmcille, Dove of Peace', email musiceducation@donegaletb.ie.
Image credit: John Soffe Photography