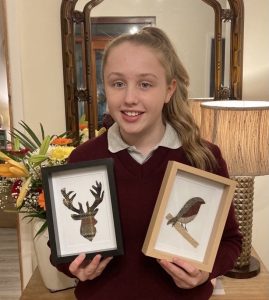 Ava McLoughlin is a 16 year old Transition Year (TY) student from our Donegal Town school, the Abbey Vocational School. She is the owner of Irish Tweedscapes.  At the start of TY, she began her business which recently won the Donegal Regional Student Enterprise Competition through Donegal LEO. In this blog, Ava tells us all about her business and what it is really like to be a student entrepreneur.
What is Irish Tweedscapes? Irish Tweedscapes is a 100% Irish owned and operated business specialising in unique, hand-crafted, Magee Tweed gifts, capturing the heritage of our country.
I started my business back in October 2020 when I wanted to create a product that was unique, new to market and something that offered my customers a 'small piece of home' at an affordable price. I came up with the idea of using tweed as my mum works in Magee and I knew there were snippets of tweed not being used so I decided to create a product that used this tweed and was therefore sustainable for both myself and Magee. I started with size 5×7 frames for €15 and later went on to sell size 8×10 frames for €25 and my first design was a map of Ireland. This map is still, to date, my best seller. I later began to focus on occasional frames such as Christmas where I had robin and stag designs.
I began to sell my frames in the lead up to the Christmas season in Magee of Donegal which was a huge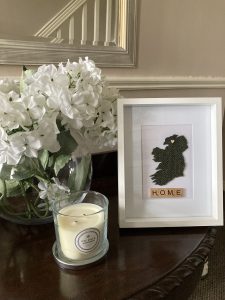 milestone for Irish Tweedscapes. I upgrade my design by adding a small wooden heart to my Ireland frames in my customer's chosen county. This ventured me on to personalised frames which are my favourite. If you have an idea that you would like made out of tweed, I can accommodate this and will always ensure that my customers are happy with their purchases.
I got through to the NFTE semi-final where I had to pitch my business plan to the judges. I was blown away by all the lovely comments and well wishes and just at the fact that I had won the regional competition. The preparation for the semi finals was so exciting. This was an amazing experience as it was the first time I ever had to do something like this before. I am not a confident public speaker but this was overcome by taking part in NFTE workshops and the calls in the lead up to the final. It made me a lot more confident in public speaking and ready for the semi-final. After my pitch I found out that I was through to the final where I had to pitch again. At this point I was well used to speaking in front of different audiences and was so excited.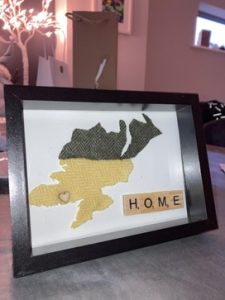 I put my business plan forward for The Student Enterprise competition and won the Donegal regional stage where I went straight to the national final. I was over the moon!! This was the competition where I was representing the whole of Donegal. I had mentoring sessions with Aisling Arnold and she was able to help me with improving my business plan over numerous zoom calls, ensuring that I was more than ready for this competition.
Becoming a student entrepreneur at such a young age has really opened up so many opportunities as I began to trade internationally, dealing with different stakeholders in business during the rebrand process and various marketing opportunities. This is my passion and I am researching digital marketing for my future. I would recommend becoming a student entrepreneur as I have gained so many skills which will help me develop as a confident young adult.