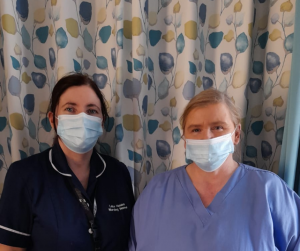 Jennifer Rankin is the Director of Nursing at the Lake House Nursing Home in Portnablagh in Dunfanaghy (pictured on the left). Over the last year she has encouraged and supported her staff to achieve QQI qualifications through our Recognition of Prior Learning (RPL) process with our Further Education and Training (FET) Service, including Ann McClean (pictured on the right) who has worked there as a Care Assistant for the past sixteen years. In this blog Ann and Jennifer reflect on what the process has meant to them as a staff member and manager (and Ann even had the chance recently to tell Minister for Further and Higher Education, Simon Harris TD, all about it!)
Ann: Hello, my name is Ann McClean. I work in the Lake House Nursing Home in Portnablagh and have been a carer here for the past sixteen years. When I became aware that the RPL process was being offered to care sector employees, I decided to apply. I had some of the healthcare modules, but not the full award. I wanted to do it myself – I wanted the qualification. I knew others were considering doing it also. That helped as it is hard being the only one to step forward. I have seen new staff come into my workplace and I have trained them and shown them how to do different tasks. I liked doing it, but they were often more qualified than I was. With RPL, I had a chance to think about what I do and how I do it. I had to examine my own approach and attitude and skills and then write about it. This gave me confidence as I knew I was doing things correctly.  It also gave me a chance to get my full Level 5 award. I loved doing it! I am a long time out of education but I am getting on great with the modules and the support systems that the ETB has in place really works for me. I work four days each week and I can fit my preparation for the award into the time I have off. What I love most about it is that I have the experience, but was just missing the qualification. I would recommend this to all experienced carers who want a qualification that shows all their skills. I will have my full Level 5 award in May. And do you know what? I am even considering joining a course when I am finished.
Jennifer: I am the Director of Nursing at the Lake House, Portnablagh, Co. Donegal, and I would just like to say a special thanks to the people involved in offering this Recognition of Prior Learning to the care sector. It recognises the contribution that the sector makes. So many care staff have never had the chance to go on and actually get their documentation or certification, to say that they have Level 5 standard, particularly those who have worked in the sector for a long time. It takes confidence to join a course or start looking for accreditation. Some never thought they could do it, even though they find themselves training up newer staff members coming in and doing all sorts of high level care work. I have seen the confidence of staff who availed of the RPL process grow. It has been so affirming for them, and put them on an equal footing with some of the younger people coming in with their Level 5 full award. It has meant so much to us in the Lake House because quite a few went forward for it and with the support of their ETB RPL Mentor.  So just thank you.