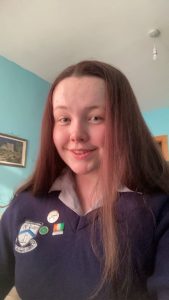 Tara Toye is a student at our Raphoe School, Deele College and also an active member of the Irish Second-Level Student Union, serving as their Student Council Support Officer this year 2020-2021. In this blog Tara tells us what the ISSU is all about.
What is the ISSU? Well let me tell you!
The ISSU is the Irish Second-level Students Union and works to represent, uplift and defend student voice and to empower the second level students of Ireland to use their own voice. We listen to the opinions and concerns of students and use this to form campaigns that will create change that matters. It is comprised of elected student representatives, such as the National Student Executive (NSE), who look after the day to day running of the organisation, and the Regional Officer Body (ROB), who work to connect with our grassroots.
My first experience in the ISSU was in 2018 at the Donegal Regional Council of Schools, where I was elected as a Regional Officer for Donegal. From there I got involved in many different working groups and attended lots of events, where I met amazing like-minded people from all around Ireland. I got the chance to travel around Ireland and I even was selected to represent the students of Ireland internationally in Germany.
In April 2020 I was one of eleven students who got elected onto the NSE. I now hold the role of Student Council Support Officer and I have had the most amazing time! I have had experiences that I would not have gotten anywhere else. There are so many ups and downs, and never a dull moment. Everything we do is a team effort and is to benefit the students.
This year it is my responsibility to coordinate and support our 44 regional officers, and to create resources that are available for student councils around Ireland. During my term I focused on reaching out to students at our grassroots to promote our work, especially the regional councils which were held during November and December. Myself and the regional officers successfully organised and facilitated 20 regional councils. This was a huge success for us and the union.
The ISSU is something I would highly encourage all students to get involved in. It is your union and works for you! It has become a huge part of my life and gave me the platform, but more importantly the confidence to be able to experience these amazing opportunities. It is an open and welcoming community of young people who volunteer for you. It is a place for you to voice your opinions and to be listened to.
There are several ways in which you and your student council can get involved in the ISSU. Your school can apply for membership on our website (issu.ie) which will create so many different opportunities for your students. With membership, your student council can nominate up to two students to run in elections at the regional council or annual assembly. Your student council would also be able to sign up for free student council training, and vote on ISSU policy.
If you are passionate about activism or interested in getting involved, the ISSU is the perfect place.