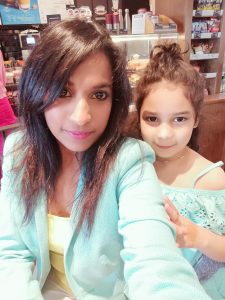 Shatroopa Mohunsing (Priyah) is a former Adult Guidance and Information Service client and FET student. In this blog she reflects on her and her daughter's experience with Donegal ETB's FET and Music Services after she moved here from Mauritius.
"The difference between school and life? In school, you're taught a lesson and then given a test.  In life, you're given a test, then a lesson." – Tom Bodett
Such was my life story, a 38 year old Mauritian woman, where I found myself alone in life with a beautiful child holding my hand and relying on me to build her future. I made the decision to relocate from my home country and settle in Ireland.
I came to Letterkenny in December 2018, with my six year old daughter Sophia. We knew no one in this new place. If I was to settle here, I knew I had to start somewhere with my education, as the qualifications I gained for work in Mauritius were not recognised in Ireland.  During that phase, I was finding it difficult to integrate into the community and find a home.  Donegal ETB played a crucial role in assisting me as an adult student to upgrade my skills and connect me to other people.
Rose, the Adult Guidance Information Officer, introduced me to the 'Early Childhood Care and Education' course, as this is the sector I worked in before. The course helped me understand the policies and regulations to work in Ireland.  I successfully completed it with the help of my teacher Mary, the course coordinator Áine and guidance counsellor Mairead. Donegal ETB was more to me than a learning institution: it fully supported me in terms of career guidance, moral support and finding a place in the community. I was able to discuss my vision for further education, which made me believe my age is just a number. This motivated me to continually improve myself.  Donegal ETB staff encouraged me to stay on course and I met many beautiful people who guided me through this learning journey.  Their Further Education and Training centre became like a second home for me.
The course was QQI level 5 certified and what I really enjoyed about the subjects I studied was the fact they were focused on giving me industry specific skills and competencies. I got an excellent work placement.  The placement resulted in my getting a real job opportunity after the course and it helped me gain valuable contacts in the childcare sector.  I learned through this how to cope with the work challenges and grow as a professional.
The ETB goes over and above its core duties in providing education for adult learners.  It also provides other opportunities such as building life skills, seeing the learner in a holistic way and it helped me develop my confidence. My family experienced another service that Donegal ETB provides – its Donegal Music Education Partnership (DMEP) enabled my daughter to develop her hidden talents as an artist by accessing Violin music lessons. She is able to turn her passion for music into a reality. I've learned that 'equality is leaving the door open for anyone who has the means to approach it, but equity is ensuring there is a pathway to that door for those who need it' (Caroline Belden).  The ETB ensures that equality and equity move parallel to each other and provides equal opportunities to all.
I finally built my nest and settled smoothly in this community with thanks to the ETB.  It helped me build on and maintain the good friendships I made during my course and through my work experience.  I am now pursuing a higher education course in Accounting and Business while working in childcare part-time.  I am looking forward to working as a teacher or becoming an accountant in the future.  I feel the skills I developed through my childcare course i.e. teamworking, adaptability and planning/project skills, will be of use to me in any of my future roles, whether childcare, teaching or working in a business environment.  In the end, I believe investment in education is never a waste.