We know all teachers work hard to ensure every student and member of their community is catered for, but creating accessible web content might not be something you've ever considered.
In order for your class blog to be valuable, it must be accessible to all students. This includes individuals with visual impairments or disabilities that require them to use a screen reader or other assistive technologies.
Fortunately, there are a few strategies you can implement to make creating accessible content for your class blog straightforward. By formatting and structuring your posts with these tips in mind, you'll make them more available and useful to all your students.
In this article, we'll explain the importance of accessibility in content creation. Then, we'll provide seven techniques educators can use to make their class blog content useful for all readers, regardless of ability.
Let's get into it!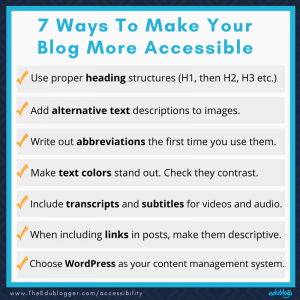 The Importance Of Creating Accessible Web Content
Web accessibility refers to sites that everyone – including users with visual, hearing, motor, and cognitive impairments or disabilities – can access and use.
Creating content that's available to all establishes inclusiveness and makes it easier for any user to navigate the web.
By creating your class blog with accessibility in mind, you increase the number of students and other visitors who can read, understand, and interact with it. Not only does this provide more meaningful user experiences, but it can also result in better design. And for those hoping to generate more traffic to their site, it can help with Search Engine Optimization (SEO).
Plus, accessibility isn't just an added benefit – it's a requirement. For example, in the US, Title II of the 1990 Americans with Disabilities Act (ADA) prohibits schools from discriminating against students with disabilities by preventing access to their programs, activities, and services. Sections 504 and 508 of the 1973 Rehabilitation Act have similar laws.
Put simply, failing to make your web content accessible can result in legal ramifications. In fact, studies have found that the number of ADA accessibility-related lawsuits in the US were up almost 200 percent last year.
The World Wide Web Consortium (W3C) outlines Web Content Accessibility Guidelines (WCAG) that serve as a foundation for most laws established by countries and states. Under this guidance, web content – including your class blog – must be perceivable, operable, understandable, and robust.
Helping your own students realize that accessibility matters is also very important. Knowing how to create high quality content is an excellent skill for students to develop. Ensuring that content is accessible is essential.