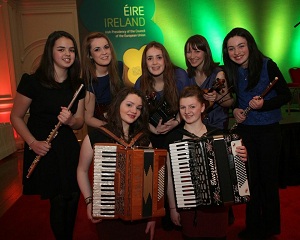 Last week on Monday 18th February last an eclectic mix of Donegal's finest young musical talent – Ceoltóirí Chloich Cheannfhaola traditional band and jazz duo Micheál and Conor Murray – took to the stage as guest  artists for the Department of Education and Skills' Conference on the Role of the Teacher Educator, an event organised as part of Ireland's EU Presidency.  Nominated by the Donegal VEC Music Education Partnership these worthy musical ambassadors performed to distinguished international delegates at the event at the Royal Hospital Kilmainham, Dublin.
Director Rosaleen Molloy said that :"Music Generation is delighted to have the opportunity to work with the Department of Education and Skills, and Donegal Music Education Partnership for this EU Presidency event.  The achievements of Donegal MEP since its establishment in 2005 have been significant and Music Generation builds upon its success in rolling out the MEP model throughout the country."
Images used were taken by photographer Barbara Flynn.